One of the top reasons why people dive is because there's no better way to experience our planet's underwater world. The waters and coral reefs around Tulamben, Bali are one of the best places to go diving since they are home to such a vibrant array of marine life. From pygmy seahorses and nudibranchs to sea turtles and reef sharks, divers can see an incredible range of wildlife. 
Globally, marine ecosystems are under threat from stressors like pollution, overfishing, and warming seas. As scuba divers, we must do our part to avoid placing additional pressure on these already fragile reefs and help conserve marine wildlife. 
Because Tulamben is a popular diving destination, it's even more critical that every diver does their part to minimize their impact. Follow the tips below during your dives and above water to help us protect our home and its incredible marine life. 
1. Keep your distance and don't chase marine animals
In order to keep Tulamben's wildlife healthy as we visit their natural habitats, it's important to interact with them in a respectful manner and avoid disturbing them. While it might be tempting to chase an animal to get a closer look, this can cause them a great amount of stress and scare them away. Just imagine if something big and unknown was chasing after you, you'd probably run away too! When marine animals feel threatened it can also alter their natural behaviors like feeding or mating.
Chasing marine life can also cause certain animals to engage in aggressive behavior. For instance, when triggerfish perceive a threat to their nest, they may charge at divers and bite them to defend their territory. Moray eels, groupers, and barracuda are some of the other types of fish found in Tulamben that may bite in self-defense. 
When diving in Tulamben or anywhere else, keep your distance and marine life will be less likely to view you as a predator. If a turtle, fish, octopus, or other animal is acting frightened or trying to escape, simply back away and be still. Moving calmly and giving marine life space will lead to a better experience for both you and the animals you're trying to view. 
2. Don't touch corals or marine life 
Being a respectful scuba diver also means not touching any corals or marine life. Corals and marine animals are extremely fragile and sensitive to physical contact with humans. Touching them can transmit disease or remove the mucus coatings that protect fish and other species. 
Touching marine life can also pose a danger to you as a diver. Some marine creatures like fire corals sting divers when they are touched, leading to a very unpleasant burning and itching sensation. Other marine creatures like lionfish and sea urchins have venomous spines that are sharp enough to puncture the skin and inject venom into the wound. Some of the injuries caused by touching marine life can be severe or lead to infections. Tulamben is home to the blue-ringed octopus, one of the most poisonous marine animals in the world. A bite from a blue-ringed octopus can be fatal since the neurotoxin they produce can lead to paralysis and respiratory failure. Fortunately, the blue-ringed octopus isn't naturally aggressive and typically only bites if cornered or touched.
Not touching anything underwater is a simple way to keep both you and marine life safe. It's important to be especially cognizant when diving so that you don't touch any corals accidentally. New divers or underwater photographers often instinctively cling onto coral to stabilize themselves while diving. Divers who don't have good buoyancy control or are not comfortable with their gear may accidentally kick the reef with their fins. This is why it's important to dive with a responsible operator who makes sure you are familiar with your equipment and provides individual attention. 
At Let's Dive Tulamben, we ensure divers are equipped with buoyancy control devices (BCDs) and fins that fit properly. We also educate every new diver on how to use their gear. We know that beginner divers are still learning and won't be perfect when they first start diving. We always maintain a 1:1 ratio for beginner divers in the sea, meaning every beginner diver is accompanied by their own dive guide. This individualized supervision makes it safer for the beginner diver and reduces the risk of them hitting or breaking the coral. We believe that personal service is better for both divers and the marine environment, so we don't exceed a 2:1 ratio even for experienced divers.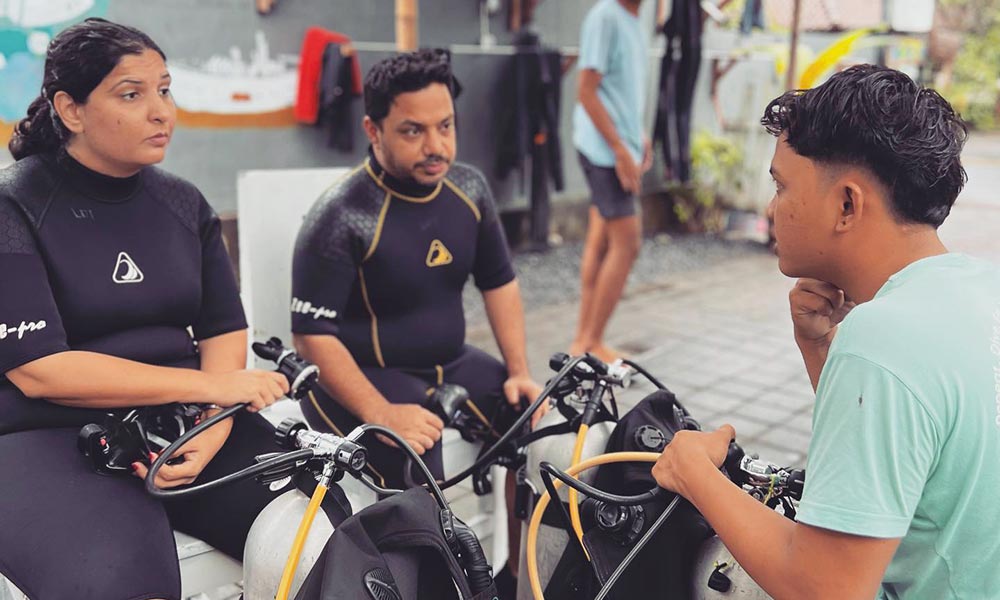 3. Avoid stirring up sediment
When diving, you should also take care to avoid disturbing the sediment that covers the sea floor. 
When sediment is kicked up, it can smother already stressed out corals, impacting their growth and reproduction. This leaves corals vulnerable to bleaching events and disease. Along with corals, sedimentation also causes a problem for other filter-feeding organisms like sponges. 
When sediment is suspended, it makes the water cloudy. This can make it challenging for marine animals to see prey or predators. Reduced water clarity also affects visibility for scuba divers, leading to lower visibility and an inferior dive experience.
The best way to avoid stirring up sediment is to avoid standing on the seafloor and maintaining good control of your fins. Remember that fins are much longer than your feet so you should be extra aware of them and always allow some extra space. 
There are certain times during our dive courses when we must practice skills kneeling on the seafloor. For these exercises, we specifically choose shallower areas that lack marine life and are away from coral reefs. 
4. Never feed the fish 
Feeding the fish is good for them, right? Guess again, it can actually threaten their survival.  
Feeding fish is a common problem in the diving industry. Some dive operators use food to attract a swarm of fish or other marine animals. While this may succeed in providing immediate entertainment, when humans feed wild animals like fish it causes a slew of longer-term problems.
The food that people feed fish is different from their natural diets and eating too much of it can make them sick. Once fish become accustomed to being fed by humans, they may become dependent on this food source and stop their normal feeding patterns. This can cause imbalances across the entire ecosystem. For instance, if fish stop grazing on the algae that grows on coral reefs, the corals may get smothered and die. Feeding fish can also result in an overpopulation of certain species, which can lead to a decline in other species. Fish may also lose their natural fear of humans and become aggressive towards divers because they expect to be fed. 
At Let's Dive Tulamben, our policy is to never feed the fish. While some dive operators may argue that a small amount of food won't make a difference, we know that this is simply not the case. Many divers visit Tulamben's reefs each day, so even if each operator used just a little bit of bait it would add up to a lot. We believe that diving is most magical when the marine life we see is truly wild and free. Tulamben's marine environment maintains a delicate balance and we want to conserve it for years to come. That's why we strive to minimize our impact however we can and you'll never see us feeding any marine life.
5. Skip the plastic bottle and take advantage of our drinking water 
Single-use plastic water bottles pose a major problem in Bali. Many tourists rely on these bottles since most tap water in Bali is not safe to drink. 
Bali's recycling infrastructure is inadequate to handle the amount of plastic rubbish produced by both visitors and locals. Indonesia produces 7.8 million tons of plastic waste each year. That's about 1,600 garbage trucks worth of plastic waste every day. Nearly two-thirds of this is not collected or disposed of properly. Instead, this plastic trash is often dumped in rivers where it eventually makes its way to Bali's beaches and seas, threatening marine wildlife and degrading the visitor experience. According to the International Union for Conservation of Nature (IUCN), it is believed that plastic now makes up 80% of all debris found in the ocean. 
Along with being dumped in the environment, it is common for plastic rubbish to be burned in Bali. Though this practice eliminates the waste, it poses a health risk to people since it releases toxic chemicals and pollutants into the air. The burning of plastic also releases harmful carbon emissions which exacerbate global climate change. 
Help us keep Bali's environment healthy and pristine by avoiding single-use plastics like disposable water bottles. We provide clean drinking water and reusable cups at our dive shop so you don't need to bring disposable bottles. We also encourage you to bring your own reusable water bottle to fill up when you leave. This filtered water is always free for our customers, but others are welcome to come and fill their bottles for a small cost. 
We encourage you to minimize plastic consumption not only when you're in Tulamben, but throughout your time on our beautiful island. Download the RefillMyBottle app to find other places in Bali that offer drinkable water to refill your bottle during the remainder of your trip.
6. Avoid harmful sunscreens
Plastics aren't the only form of pollution that can harm coral reefs. The sunscreen that you put on your skin can come off in the water and be detrimental to coral reefs. 
When diving, most of your body will be shielded from the sun by your wetsuit. Only apply sunscreen to those areas that will be exposed. For other activities like swimming or snorkeling, consider wearing sun protective clothing to minimize the need for sunscreen.
When you do use sunscreen, it's best to avoid products that contain chemicals like oxybenzone and octinoxate. These have been linked to coral bleaching and other negative impacts on marine life. Reef-safe sunscreens are typically mineral-based and contain ingredients like zinc oxide and titanium dioxide. This blog post contains more information about how to protect skin without harming marine life. 
7. Don't litter and help us clean our beaches and seas
We hope this next one goes without saying, but please please dispose of any trash properly and never litter. As mentioned above, plastic waste and other forms of rubbish are a major problem that threatens the well-being of Bali's marine environments. Along with reducing the amount of waste that you produce it's important to dispose of any trash properly. Always utilize designated receptacles instead of tossing rubbish onto the ground or into the environment. 
Food wrappers and plastic bags were the most common item found along Indonesia's coasts during the 2023 International Coastal Cleanup. Instead of buying processed snacks from stores, bring a reusable bag and visit a local market to stock up on fresh fruits and goodies. 
Visitors can also lend a helping hand in keeping Bali's environment trash free by picking up debris found on beaches and under the sea. If you're staying for a while, consider joining a local beach cleanup. One group that organizes beach cleanups around this part of Bali is Trash Hero Amed. When you dive, you have a unique opportunity to remove trash that you find underwater. Before doing so, learn about which types of marine debris should be removed and the safety precautions to follow. Follow these seven marine debris removal tips from PADI to get started. 
Did you know that there is a diving course focused specifically on collecting debris underwater? The PADI Dive Against Debris specialty course teaches divers best practices for removing marine debris. 
Anytime you collect litter from the environment, it's helpful to report it in online databases like the CleanSwell or PADI Aware apps. This helps scientists, researchers, and environmental organizations track the distribution of debris in different ecosystems and identify changes over time. 
8. Become a citizen scientist
Providing your debris collection data to online databases is a form of citizen science. This is when individuals, or "citizen scientists," participate in activities like environmental monitoring to assist scientific projects. Divers are one of the only groups of people who can help with citizen science initiatives that take place underwater.
Along with removing and reporting rubbish, there are other ways you can act as a citizen scientist when diving. This includes activities like monitoring the health of coral reefs, recording sightings of invasive or vulnerable species, or supporting coral restoration. Reef Check's EcoDiver program trains divers to help collect scientifically valuable data on coral health, fish populations, and other indicators of reef health. Through CoralWatch's monitoring program, divers use color charts to assess bleaching and the health of corals they encounter. 
Before participating in any citizen science program, divers should receive the proper training. This ensures you'll be able to collect data accurately and safely so you help, rather than impede, scientific efforts. 
9. Support initiatives that protect ocean ecosystems
There's many organizations that are doing great work to protect our world's oceans and reefs. Consider donating to these organizations to support their projects and initiatives. This could include things like coral restoration, reef monitoring, waste management, education and community engagement, policy advocacy, or marine protected area management. Before contributing to any organization, do some research to make sure that they are reputable and engaging in true conservation activities.
It's also important to support efforts to protect blue carbon ecosystems. These are the plants that grow along coastlines, like mangroves and seagrass. These coastal ecosystems provide a sheltered breeding habitat and nursery for juvenile fish, and are critical for maintaining healthy fish populations. They also act as powerful carbon sinks that remove carbon from the air and store it in their leaves, roots, and soil. One way that you can invest in these ecosystems is by purchasing carbon offsets via the carbon calculator on our website. 
10. Reduce carbon emissions to fight climate change 
You can also use our calculator to measure the amount of carbon emissions that you produce during your trip. Climate change is one of the greatest threats to the world's coral reefs. As ocean waters warm, it stresses out coral polyps, hindering their growth and making them more susceptible to bleaching and disease. Along with causing corals to lose their vivid colors, severe or repeated bleaching events can lead to coral death.
The carbon emissions released by human activities like fossil fuel energy use, deforestation, and livestock farming are the leading cause of climate change. Along with warming ocean temperatures, elevated levels of CO2 in the atmosphere also lead to ocean acidification. This can make it more difficult for corals and other marine organisms to build and maintain their structures.
It is in the best interest of scuba diving, marine ecosystems, and the entire world to reduce carbon emissions and combat global climate change. There are many ways that you can reduce your carbon footprint when you are at home or on vacation. This can be as simple as turning off the lights and air conditioning when you leave your hotel. 
Read this blog post from Sustainable Travel International for climate-friendly tips that will help you decarbonize your travels. 
11. Eat sustainable seafood
Since Tulamben is a fishing village, we are lucky to have some of the freshest seafood in the world. But what you eat can affect what you see underwater. When species are overfished it can endanger the viability of fish populations. Destructive fishing gear or methods like dynamite or cyanide fishing can cause damage to coral reefs. 
Eating seafood in Bali should be a part of every itinerary. You just have to go about it in a responsible way. When dining at restaurants or purchasing seafood from a store or market, don't hesitate to ask questions. For instance, where did the seafood come from and how was it caught? 
Opt for locally caught seafood which is usually lower impact. In an island destination like Bali this shouldn't be too hard. When you're along the coast, the restaurant should be able to tell you the name of a fisherman or local market. This also guarantees that your fish is super fresh and your dollars benefit the local community. 
Along with eating local, never consume fish species that are overfished or endangered. For more specific guidance, refer to sustainable seafood guides from organizations like World Wildlife.  
12. Keep learning and improving
We hope this information leaves you feeling inspired to be a more environmentally responsible traveler and diver. There are plenty of resources available to help you continue learning.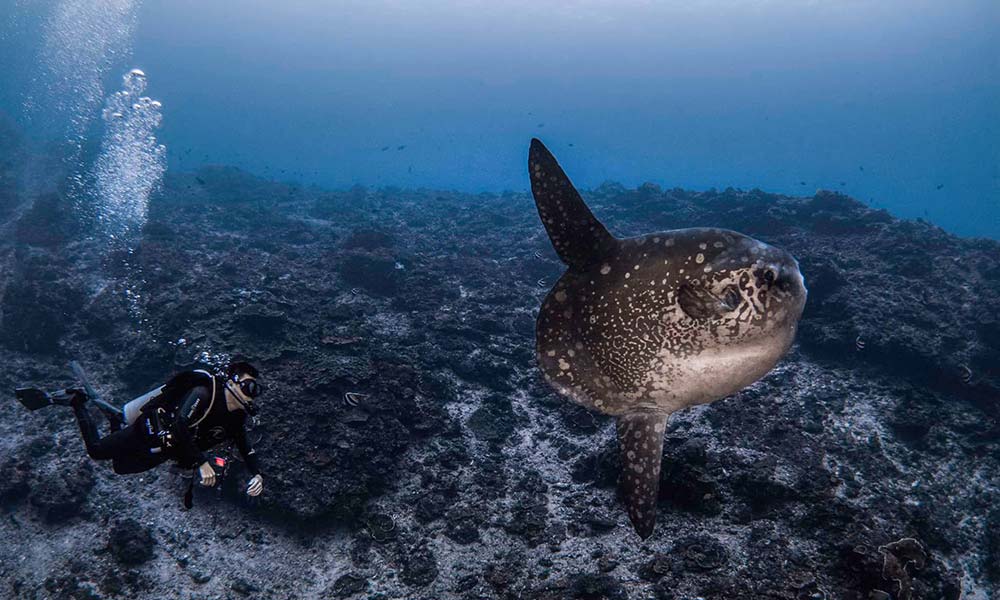 As a starting point, check out blog posts from organizations like Green Fins, the Coral Reef Alliance, the Ocean Conservancy, and Sustainable Travel International. There are also various courses that you can take to dive into sustainability even deeper. The PADI AWARE specialty conservation courses educate divers about environmental issues, responsible practices, and encourage active participation in marine conservation efforts. Another learning opportunity is the Green Fins Diver E-Course. This online course covers responsible practices that will help you minimize your impact on coral reefs and marine wildlife while diving. 
13. Choose a responsible dive operator
In addition to following the above tips, it's important to choose an eco-friendly dive center that also abides by these practices.
At Let's Dive Tulamben, we are committed to responsible diving and business practices. Our entire team was born and raised in the Tulamben area. We know that the coral reefs and marine life found in Tulamben's waters are something special. They are also critical for our community and livelihoods. Our families fish from the sea, they provide us food, and our local dive industry relies on the health of our reefs. We care about protecting them so our children can continue to experience and benefit from them for years to come. We strive to do our best but always welcome any feedback related to our practices and how we can improve them. 
We hope you'll join us for a diving trip or certification course on your next visit to Tulamben. But if you don't, please help us spread awareness by educating other scuba divers and operators on sustainable practices.