Considering diving for the first time in Bali? Or already an experienced diver who is looking to visit some of the island's best dive sites? 
Tulamben offers something for scuba divers of all levels. Its calm waters and accessible dive sites make it a great place for beginners to try scuba diving. For advanced divers, there are also more challenging sites that provide opportunities to explore inside shipwrecks or dive to deeper depths. Regardless of your skill level, Tulamben is a great place to see marine life. Napoleon wrasse, groupers, sweetlips, barracuda, pygmy seahorses, turtles, nudibranchs, octopuses, clownfish, frogfish, and moray eels are just a few of the species that are found here. 
Tulamben is a quiet town that offers respite from the more touristy parts of the island, and where a strong sense of community shapes the visitor experience. It is the kind of place where divers share a bintang with locals at the end of the day, marking the beginnings of a newfound friendship.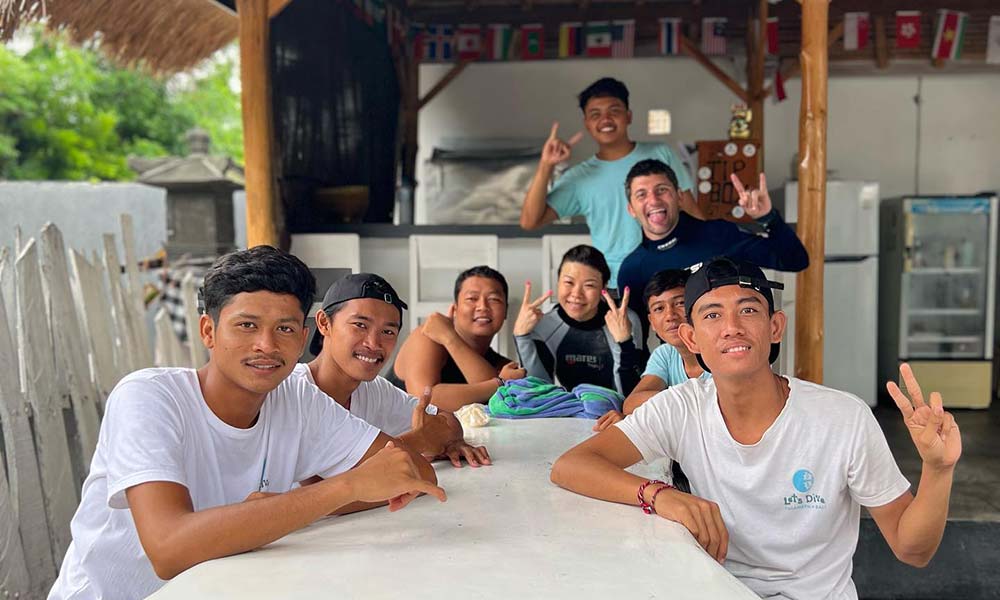 One thing you'll notice is that the beaches in Tulamben look different from the rest of Bali. Here the shore is covered with small black stones, the result of volcanic eruptions. A fishing village, there are many traditional fishing boats, called "jukungs," lined up along the coast. 
Our dive center is located in the center of Tulamben, and our team is made up of locals who've lived here their whole life and know the area well. We've compiled this guide to pass along all our inside knowledge about Bali's best scuba diving destination.
How to Get to Tulamben 
Tulamben is a quaint, seaside village located on the northeast coast of Bali. Unless you are coming to Bali from a nearby island in Indonesia, you will most likely arrive at Ngurah Rai International Airport, the main and only airport in Bali. The airport is located in Denpasar, a city in South Bali. 
Once you arrive in Bali, you can use various modes of transportation to get around the island, including private drivers/taxis, scooters, or rental cars. If it's your first time visiting Bali or you're not comfortable driving here, we recommend hiring a private driver to take you to Tulamben. Driving in Bali is likely more chaotic than what you are used to back home – traffic is often congested, motorbikes weave in and out between cars, some roads are not well-signed, and cars overtake one another by speeding in the oncoming traffic lane. Hiring a private driver is an effortless way to get around the island and is also surprisingly affordable. Not to mention, it also supports local people and the Balinese economy. 
It's easy to hire a private driver from the airport or any other location in Bali to take you directly to Tulamben. The trip takes approximately 2-4 hours from the southern areas of Bali. Here are the approximate prices for how much it would cost to get from Tulamben from some of the popular destinations in Bali:
Canggu: IDR 700,000 (4 hours)

Uluwatu: IDR 800,000 (4 hours)

Seminyak, Denpasar, Kuta or Sanur: IDR 600,000 (3 hours)

Ubud: IDR 600,000 (2.5 hours)

Lovina: IDR 550,000 (2 hours)

Padang Bai: IDR 400,000 (1.5 hours)

Amed: IDR 200,000 (20 minutes) – note that Let's Dive Tulamben offers free pickup for our customers who stay in Amed 
It's important to note that these are just estimates, and the actual costs may vary depending on the time of day, the season, or if you book your driver directly or through another company. Similarly, the time that it takes to get to Tulamben can vary based on traffic. 
We recommend staying a few nights in Tulamben to relax and get the full experience. However, if your time is limited, it is also possible to visit Tulamben as a day trip from other parts of Bali.  
Click here to find our dive center on Google Maps.
Best Time to Go Diving in Tulamben 
Tulamben is a year-round diving destination, so the best time to visit depends on your personal preferences. 
In Bali, there are two main seasons: the dry season and the wet season. Many consider the dry season to be the best time to go diving in Tulamben. During these months, the weather is generally sunny and Tulamben gets very little, if any, rainfall. Because the northeast coast is the most arid part of Bali, Tulamben's dry season tends to be longer than other areas of Bali. In general, Tulamben's dry season runs from May to November, though this can vary from one year to the next. During the dry season, the sea is usually calm and there tends to be good visibility. The main downfall of coming during the dry season is that it's also peak tourist season, with June through August being the busiest months. You can expect there to be more people diving in Tulamben during this time, especially at the world-renowned Liberty Wreck.
During the rainy season (December to April), you can expect more rain and storms, higher humidity, and lower visibility. But even in the rainy season, Tulamben usually only gets rain for a few hours in the afternoon or night. Though the weather is not as ideal, diving can still be enjoyable during this time. Because it's a less popular time to visit Bali, Tulamben's dive sites are much emptier during the rainy season, particularly during the months from February to May. The other benefit of coming during the rainy season is that prices for both accommodations and diving will be lower than they are at peak tourist times.  
In addition to the time of year, the time of day you go diving also makes a difference. Tulamben's dive sites tend to get the most crowded between 10am to 1pm. Visibility also tends to get worse by the afternoon and currents may be stronger too. For this reason, many people like to get an early start and go diving first thing in the morning. 
If you're an experienced diver, you might also be interested in doing a night dive on the Liberty Wreck after the sun sets. Night diving lets divers see different types of marine life than they would during the day, and is an exhilarating way to explore this popular dive site. 
Top Dive Spots in Tulamben
Tulamben boasts a range of fantastic dive sites that appeal to different types of divers. Here are just a few of our favorite: 
This sunken ship is one of the most famous dive sites in Bali, and Tulamben's main attraction. The USAT Liberty was a United States army cargo ship that served during both world wars. The Liberty met her end when she was torpedoed by the Japanese during World War II. After being beached in Tulamben for years, tremors from the Mt. Agung volcano eruption knocked the forlorn ship into the water – her final resting place is just 25 meters offshore. 
Since then, the 120 meter long wreck has morphed into a vibrant reef. What was once a derelict vessel is now covered in corals, sponges, and sea fans and home to an abundance of fish and other marine life. The accessibility of the wreck combined with the incredible level of  biodiversity makes the Liberty a particularly unique and captivating place to dive.
Click here to learn everything you need to know about diving the Liberty Wreck. 
This dive site consists of a rocky underwater wall that stretches down over 70 meters.The vertical wall, which was formed by lava flows, is now covered in a fantastic amalgamation of corals, gorgonians, anemones, and sponges. 
The wall is merely a short swim from the shore, and the sandy seafloor leading up to it is a good place to hunt for nudibranchs and other macro critters. A multi-level dive site, the upper part of the wall is accessible even by beginner divers, while advanced divers can head down farther. Reef fish like angelfish and damselfish swim around the wall, while octopuses, eels, and other marine creatures hide amongst the corals. Peering out into the deep blue waters that abut the wall, you can spot larger visitors like tuna, giant trevally, and reef sharks. 
Around the corner from the Drop Off are a series of other, lesser known dive sites that can only be reached via a short boat ride. Of these sites, Emerald is the farthest away. As a result it is more secluded and there's a chance you might even have the site to yourself. The corals here are healthier and there is a diverse variety of fishes, like bannerfish, parrotfish, and pufferfish. Along with the natural reef, Emerald also has a few artificial reef features including a sunken car and table with chairs. Because it is more remote and visited by fewer divers, Emerald is one of the best places in Tulamben to spot larger species. We've even seen mola molas, manta rays, and whale sharks here on rare occasions.   
If you're into wreck diving, then you're in luck. Besides the infamous USAT Liberty, Tulamben is also home to a second wreck. The Boga Wreck, also known as the Kubu Wreck, is located a quick drive north of Tulamben. This smaller ship was intentionally sunk about 10 years ago to create an artificial reef. As a result, the ship is still largely intact and in the early stages of being colonized by corals.
Divers can penetrate the wreck's lower decks and see an old volkswagen car that was placed inside. After it was sunk, the wreck slowly began sliding down the sandy slope into deeper water. The ship is now tethered with ropes to prevent it from sliding down further, but since it rests between 18 to 40 meters deep this site is only suitable for advanced scuba divers. 
Another noteworthy dive site in Tulamben is the Coral Garden. This site is located not too far from the Liberty Wreck and is a shallower site that is great for beginner and macro divers. Be sure to look closely or you might miss the tiny nudibranchs, ribbon eels, and coconut octopuses that reside on the black sandy slope. Divers will also be impressed by the large field anemones that sway in the water at just 5 meters deep. 
Some fondly refer to Coral Garden as an underwater gallery since it features several sculptures including buddha, dolphin, and turtle statues. These art pieces, along with other man-made structures, support reef conservation by acting as artificial reefs.  
These five locations are just a few of the dive sites that you can visit in Tulamben. There are also a number of muck diving spots which may be of particular interest to underwater photographers, as well as various other dive sites that offer something more to see. Click here to learn about some of Tulamben's other dive sites. Our dive center staff is also always happy to talk to you and share more details about the different options. 
How Deep is Tulamben Diving?
Diving in Tulamben can range in depth from shallow dives to deeper dives depending on the dive site and the diver's level of experience. Some of the shallower dive sites include the Coral Garden which is only 3 – 15 meters deep. Many of the dive sites, such as the Liberty Wreck and Drop Off, also begin at shallow depths.  
There are also deeper dive sites in Tulamben that are suitable for more experienced divers. For example, the deepest part of the Boga Wreck is 40 meters deep and the wall at the Drop Off plunges down 70 meters. 
How to Choose a Great Dive Center in Tulamben
Diving is THE thing to do in Tulamben, so there are many great dive centers to choose from. Choosing a good dive center helps ensure that you have both a safe and enjoyable diving experience, and that you are positively impacting the local environment and economy. Here are some factors to consider when selecting a dive center in Tulamben:
Is safety a top priority?

Diving should be fun, but it can also be dangerous if safety isn't taken seriously. To ensure you're in good hands, ask the dive center about their safety protocols and equipment maintenance. A good dive center will have well-maintained equipment, knowledgeable and experienced instructors, require proof of certification from all divers and provide appropriate training for inexperienced divers, provide a briefing before each dive, and have oxygen on hand.

Are they locally owned and operated?

Northeast Bali is one of the more impoverished parts of Bali. The region is more arid and dry, making it harder to grow crops here, and the area is less developed than the south. Tourism provides an important source of employment and income for the Balinese people who live in Tulamben and its surrounding villages. Choosing a dive shop that employs local staff members and is also locally owned is one of the best ways that you can support the local economy. 
Do they have good reviews?

One of the best ways to learn about a dive center is to read online reviews left by other divers. This can give you an idea of the quality of service, safety, equipment, and overall experience. Check out our

Google

and

TripAdvisor

reviews to see what others have to say about Let's Dive Tulamben. 

Do they care about the environment?

Many of Tulamben's reefs have suffered from unsustainable fishing or careless divers. Choose a dive center that promotes responsible wildlife interactions and does not allow guests to touch, harass, or feed animals. As waste management is also a major issue in Bali, an eco-friendly dive shop should also provide filtered drinking water so that you don't have to buy plastic bottles. 

What do they offer?

This probably goes without saying, but you should make sure the dive center offers the type of experience that you are seeking. For instance, if you are looking to get your PADI Open Water certification, make sure you don't inadvertently choose a dive center only teaches SSI. Other considerations include: whether you will be going with other divers, how large their groups are, if you'll have your own dive master, and which dive sites you can visit.

Where are they located?

If you are planning to visit Tulamben's dive sites, we recommend choosing a dive center that has a physical location in Tulamben. These dive centers know the area best and getting to/from the dive sites will be a quick trip. Some of the dive centers that are based in South Bali also arrange trips to Tulamben; however, we recommend booking with one of the centers in Tulamben to make sure your dollars actually reach the local economy. 
Our dive center, Let's Dive Tulamben, is a 100% local dive shop located in the heart of Tulamben. We pride ourselves on offering an authentic and high quality experience, and when you dive with us we treat you like family. Our guest's safety and enjoyment is our top priority. We like to think we're a little different from your average dive shop – click here to learn more about the "Let's Dive" way. 
Can You Go Snorkeling in Tulamben?
While most visitors choose to explore Tulamben's underwater wonders by diving, it is also possible to snorkel at some of the shallower sites. Since the top of the Liberty Wreck is only a few meters below the surface, there is plenty of marine life that snorkelers can see. Snorkelers can view the wreck from above, as countless fish swim below. If you haven't gotten your fill after visiting the wreck, another good snorkeling spot in Tulamben is the Coral Garden. 
At Let's Dive Tulamben, we offer guided snorkeling tours for those who would like to be accompanied by an experienced local guide. It is also possible to snorkel in Tulamben without a guide, but keep in mind that going with a guide supports local livelihoods and provides benefits like enhanced safety and knowledge of the sites. 
Where to Stay in Tulamben
Tulamben offers a range of accommodation options that cater to different budgets and preferences from villas and resorts to guesthouses and homestays. For instance, some of the higher end properties located right along the beach include Tauch Terminal and Mimpi Resort. There are also plenty of options for those on a tighter budget, such as Crystal Ocean View or Khrisna Sunrise Homestay. To find the hotel or villa that's right for you, we recommend you do your own research via Google, Booking.com, Agoda, or other platforms.
Some people also choose to stay in the nearby town of Amed, which is located about 20 minutes southeast of Tulamben. Amed is more developed and touristic than Tulamben, so if you're looking for a place with more restaurants and accommodation options then it may be the place for you. 
Book Your Diving or Snorkeling Trip in Tulamben
Ready to go diving or snorkeling in Tulamben? Whether you're staying in Tulamben or coming from another part of Bali, we recommend booking in advance. However, it's also possible to stop by our dive shop the day before to arrange your dives. 
We offer scuba diving adventures for divers of all levels, from beginners to pros. If you're ready to book your dive or snorkeling trip, simply contact us online here. Or select an option from the list below to learn more about the different ways to explore Tulamben's underwater treasures.