With its calm waters and accessible dive sites, Tulamben is a great place for beginners to try their hand – or fins – at scuba diving. Located on the northeast coast of Bali, Tulamben offers a peaceful getaway from the hectic south. Scuba diving is the main activity that draws visitors to this quiet coastal town which is home to many dive sites. 
Beginners can try scuba diving for the first time by signing up for an introductory dive experience, also known as the PADI Discover Scuba Diving. Before you step into the water, a trained dive professional will provide you with the basic skills you need to stay safe and comfortable under water. You'll also get a chance to practice these skills and get used to breathing in calm, shallow water to make sure you are confident before embarking on your first dive. 
There are a number of dive sites in Tulamben that are suitable for beginner divers. Here are our top picks. 
Coral Garden
Tulamben's Coral Garden is the perfect place for beginners to go for their first dive. This is one of the shallowest dive sites in Tulamben, with depths ranging from 3 to 15 meters deep, and the waters here are calm. This makes the Coral Garden an easy, safe location to practice skills and get used to scuba diving.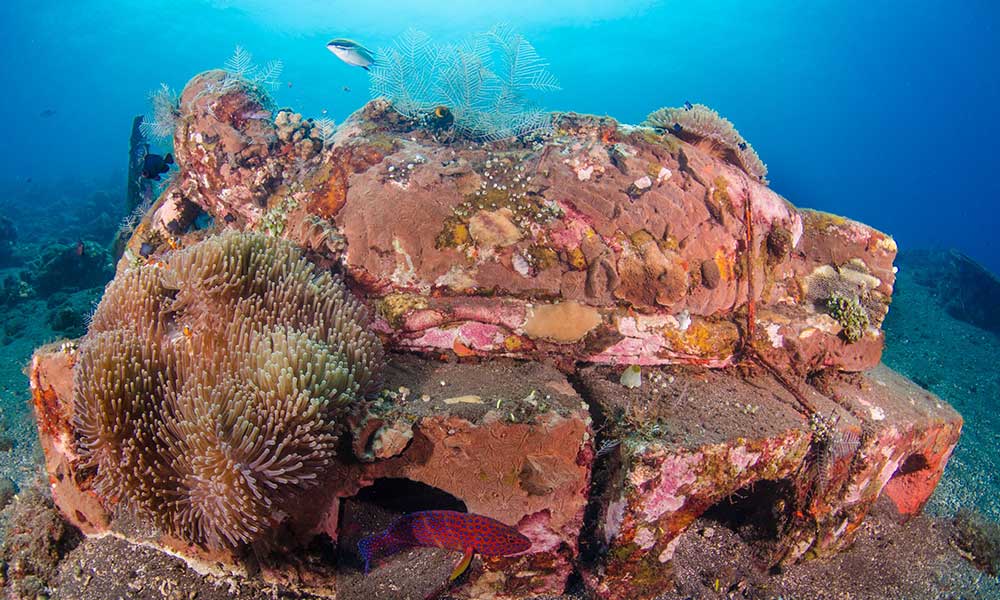 One of the distinctive features of this dive site is that it's the site of an ongoing reef restoration project. This means that along with natural reefs, divers can see corals growing on different types of artificial reef structures and statues. Along with coral, this garden also contains a huge field of anemones inhabited by different types of clownfish. 
Liberty Wreck
Tulamben's most iconic dive site, the USAT Liberty Wreck, is a must-see for every beginner diver who visits Bali. Because the wreck is located just offshore and its shallowest part is only 3 meters below the surface, the USAT Liberty is renowned as one of the most accessible wreck dives in the world. 
Since it sank in the early 1960's, the Liberty Wreck has transformed into a rich marine ecosystem. The ship is now completely covered in soft and hard corals, sea fans, and sponges. Countless species of fish live in and around the wreck, from tiny damselfish and nudibranchs to giant groupers and napoleon wrasse. If you want to have a memorable beginner diving experience, be sure to pay a visit to the Liberty Wreck.
Drop Off
Tulamben's Drop Off is another favorite among beginner divers. This dive site offers something a little different from the other two sites. As its name indicates, the Drop Off is characterized by a sheer underwater cliff that is covered in corals, gorgonian sea fans, and other types of marine life. 
Beginner divers are able to explore the upper portion of the wall. In addition to reef fish like angelfish and triggerfish, divers can also keep an eye out for critters like moray eels, lionfish, and octopuses hiding among the crevices in the wall. 
Book your beginner scuba diving experience 
Ready to try out scuba diving in Tulamben? Let's Dive Tulamben offers beginner diving experiences that are fun, safe, and affordable. In addition to receiving the necessary training and instruction, you'll be accompanied by your own, highly-qualified dive master to ensure you have an enjoyable time underwater. Click here to book your beginner diving experience today.