Name
Harlequin Shrimp (hymonocera picta or hymonocera elegans)
Where to Spot in Tulamben
The Seraya Secrets dive site is the best place in Tulamben to see the Harlequin shrimp. They can also sometimes be found at the Melasti dive site.
About
The Harlequin Shrimp is a fairly rare saltwater shrimp that lives in coral reefs in the tropical Pacific and Indian Oceans.The shrimp are usually less than 5 cm long and are often found in mating pairs in sheltered locations such as branched corals, under rocks, or in reef crevices.  Though they may be small, these shrimp are practiced predators with a very specific diet – starfish.  Harlequins are easily recognizable by their distinct appearance – a cream or white body splattered with brightly colored spots. This bold coloring functions as a defense mechanism, creating an illusion of toxicity and deterring predators.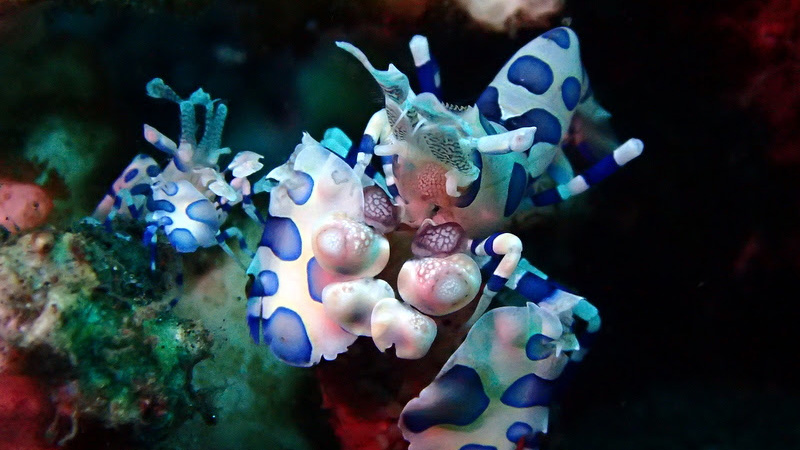 The shrimp are sometimes split into two different types. The difference? The color of the spots. Here in Bali, the Harlequins you will see have brownish spots with a blue edge (hymonocera elegans). This coloring is prevalent in the west Pacific and Indian Ocean. But, if you take a trip to the central or east Pacific – say, Hawaii – you will more likely find Harlequins that have purplish pink spots (hymonocera picta).
To learn more about other aquatic species you can spot in Tulamben, check out our other marine life blog posts.